The Northfield Raiders Clay Target Team continues to grow. During the inaugural Spring season of 2013, the team had a roster of 42 athletes and Spring of 2014 the team grew to 61 athletes.
The Minnesota High School Clay Target League also has a six-week fall league, of which the Raiders have participated. In the fall of 2013, the team fielded 32 athletes and this current season the team has registered 37 athletes.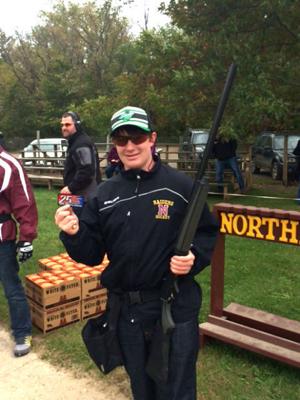 The Minnesota State High School Clay Target League promotes the spring league as the main competition league with an eight-week schedule, a state championship in June, and then the state tournament. The state championship is a state-wide event with all athletes invited to participate. The state tournament is the best of the best from both a team and individual perspective. To be invited to the state tournament, a team needs to have scored within the top 24 teams out of 184 total school teams participating. An individual athlete gets invited to the state tournament by scoring with-in the top 100 athletes out of a total of 6,100 athletes in the league.
The Northfield Raiders fall team consists of about 50 percent new athletes and the remaining are returning athletes from our previous seasons. During the first week of competition, the Raiders placed fourth in the ranking. Competition week two conference 9A scores were released on Sunday morning and the Raiders placed second with a score of 1,209 points, behind Park High School, which took first place with a score of 1,450.5. The third and fourth-place positions were Wayzata High School with 1,138 points and East Ridge High School with a score of 955.5.
The Raiders have a strong team with several athletes ranked in the top 25 the conference. For the girls, Shelby Mathews ranked eighth, Elizabeth Evenson 11th, Hannah Sing 14th, Nichole Malecha 15th, and Suzy Running 17th. For the boys, Luke Schewe is ranked fourth, Wylie Kneser eighth, Derek Salaba 11th and Matt Gorgon ranked 23rd. The team has several other strong shooters but in order to be ranked an athlete must participate in all the competition rounds.
Another fantastic performance by Lane Dornbusch getting a perfect score of 25 out of 25 on Sunday to start out the Raiders Competition Week 3 with the desire to win. The final competition round is October 19th.
Northfield News Posted: Friday, October 10, 2014 2:11 pm | Updated: 12:32 am, Sat Oct 11, 2014.