Led by the support of their schools and volunteer coaches, co-ed student athletes will participate on their high school team in shooting sports for six weeks through October at shooting ranges throughout Minnesota.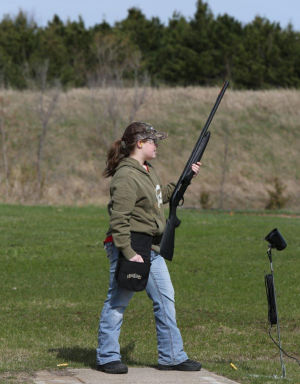 And the number of students competing has grown dramatically — the Minnesota State High School Clay Target League will host 1,770 student athletes representing 68 high school trap shooting teams and 13 high school skeet shooting teams in the 2014 fall season. 
"Last year the fall season included 880 student athletes," said Jim Sable, executive director of the MSHSCTL. "The league added skeet as a new shooting sport activity this fall because coaches and student athletes requested adding the sport. In addition, more than 550 of the fall student athletes are new participants."
Todd Rost helps coach the Bethlehem Academy squad, which last spring had 21 participants. Neither BA nor Faribault High School, which has a team of about 70 students, participate in the fall season.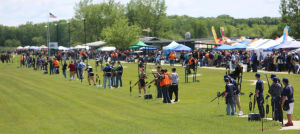 Rost says he's expecting about 30 students for the BA team next spring, which he hopes includes more young women. Last year's team had just two.
"I think it's fun and it's kind of like golf," Rost said. "You're competing against yourself."
Trapshooting is one of the three major sports of competitive clay target shooting sports with a shotgun. The other primary shooting sports are skeet shooting and sporting clays.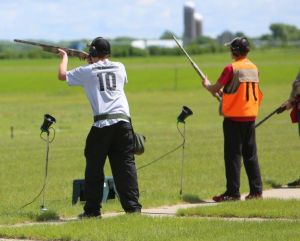 In trapshooting, the targets are launched from a single "house" or machine, generally away from the shooter. In skeet shooting, targets are launched from two houses in paths that intersect in front of the shooter. Sporting clays includes a more complex course, with many launch points.
The Minnesota State High School Clay Target League attracts student athletes to participate in shooting sports while creating a "virtual" competition among high school teams throughout Minnesota. Family travel is minimal because practice and competition are conducted at a shooting range near the school's location. Conferences are determined by team size rather than geographic location for fair competition.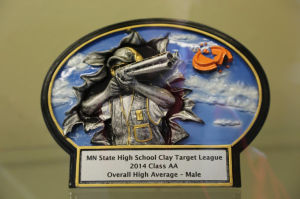 Athletes earn true team scoring points as determined by their performance and ranking against all athlete scores within their team's conference. The team score and overall standing are calculated by adding the earned points from qualifying athletes.
"They didn't have it as a letter sport last year at BA, but hopefully we can get that pushed through this year," Rost said.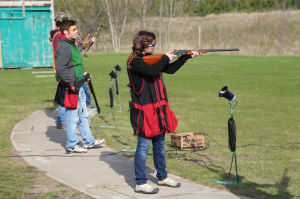 Northfield had 62 members on the team in the spring season and expects that number to grow to around 70-80 in the future. The Northfield School District voted in May to approve the clay target team as a school-sponsored activity so athletes can receive a letter in the sport now.
Kenyon-Wanamingo, Medford, Blooming Prairie and Waterville-Elysian-Morristown also have growing teams, with athletes regularly heading to the local gun clubs for practice.
Last spring, qualifying athletes participated in the sport's first state championship, with 3,000 students in attendance.
"I'd never seen anything like it," said Rost.
 To participate in the sport, students are required to have a firearms safety course certificate.
Posted: Wednesday, October 8, 2014 4:00 am